For me, autumn is a time to think about layers, both outside AND inside. When it comes to lingerie, that usually means thinking about robes to wrap yourself up in when there is an extra nip in the air.
Robes are always big, important purchases– they're more expensive than the average bra or panty, so it can be hard to commit to the right one. I always vacillate on what the perfect robe would be to take the plunge on– but I managed to pick out 10 amazing robes that I would love to wear all the time.

The Angela Friedman robe above is beautiful and perfect if your version of fall is relatively mild. I love the sheer mesh and the delicate lace edging. I also think the thin elastic belt is nice for some easy, comfortable waist definition.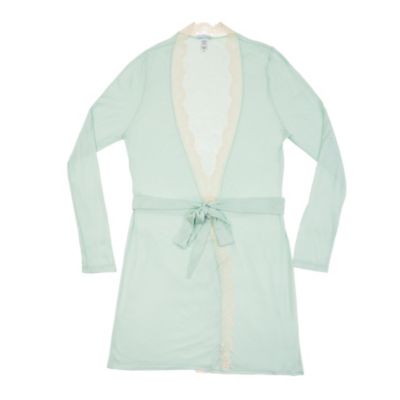 This sweet mint robe from Eberjey is a little bit simpler and cuter for a drowsy weekend in. Mint and cream is one of my favorite lingerie color combinations because of the slightly retro feel to it. Also it reminds me of pistachio ice cream, which is one of my favorites!
Lace angel wings on a robe are such a delightful touch– maybe a little bit of 'nice' to cover up any 'naughty' underneath. This Kriss Soonik robe is really such a special piece that also looks so comfortable. I love that this is made of velour because it's such a cozy fabric that would so lovely to wear.
For the lover of retro glamour, this leopard print robe from Betty Blue's Lingerie is a perfect fit. It may be too bold for some, but it will surely be a perfect fit for those of you with the kind of personality that just begs to be covered in a leopard's spots.
I've already gone on a bit about how much I love my new Fleur of England robe, but I do think that this robe has its own special appeal. The 'Truffle' color is so subtle and sophisticated, it has a personality all its own.
This short little kimono is a sweet, casual robe that feels easy for anyone to wear. The Japanese crane and chrysanthemum print is really gorgeous and seems perfect for making breakfast on a lazy weekend.
If you want to feel like a glamourous fifties pin-up in your robe, I think that this sheer Dottie's Delights dressing gown is a must. There is drama simply oozing from whoever wears it, so you have to be the right kind of girl to embody it's proper spirit. (Hint: if swishing your robe dramatically is your dream, this one may be for you).
Agent Provocateur does make a lovely robe, and this one really stuck in my mind because of the huge sleeves and the powerful color. The combination of red and pink is really one of my favorites for a bold and modern personality.
Sometimes you just want to be covered in lace, right? That's where this Zinke lace robe is perfect. Some might not like a short sleeved robe for fall, but I think it is really quite an easy, wearable piece over almost any slip or nightgown.
Yes, that is such a preppy, preppy robe! I have a love affair with stripes, so my eye was instantly drawn to it. Then I realized that it was on sale! For $19.97! If some of you guys don't buy this gorgeous robe with the fantastic deal that's going on, I don't even know what to do with you people :).
See anything you like? Is there anything I missed you wish you could have seen?