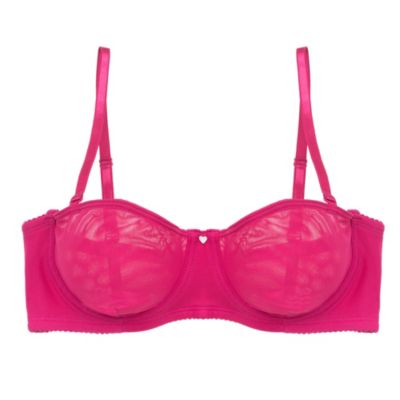 The real genesis of this blog post is the fact that I have no strapless bras that fit me right now, so I have my eye out for a good one. The trouble is, it seems like most strapless bras are governed by practicality over beauty the vast majority of the time. While I understand the need for practicality when it comes to strapless bras, I like pieces that are beautiful in their own right.
This turquoise bra with red contrast straps by Clo Intimo is stunning. Clo Intimo is a Colombian brand that I sadly didn't know about in time to add to my piece on South American lingerie brands and I love their simple yet stylish perspective. That is one bold and colorful strapless bra and I love it. Size Range: 32B-36D
So, a basque isn't exactly a strapless bra, but it's so pretty. What really makes this piece stand out for me is the delicious creamy color and the simple yet chic shape. Don't worry: If the basque is too much, there is also a strapless bra in the range. Size Range: 32DD-HH, 34-40 D-HH, 42D-H, 44D-G, 46D-F, 48D-E.
The beautiful lace on this Andres Sarda bra is what makes it stand out. The bandeau style is slightly more difficult to wear if you want your strapless bra to be invisible, but it could be lovely peeking though a scoop neck shirt. Size Range: 32B-36C
Just because it's in leather it's still a strapless bra, right? This might not be the most practical choice of a strapless bra, but it is the strapless bra most likely to be worn by a cyborg, which has to count for something. Size Range: S, M, L
The NOE Undergarments Bustier bra is such a beautiful and luxurious piece that can be easily used as an outerwear piece as well. I love the bold orange silk because it's both deliciously soft and beautiful. Size Range: 1-4
I included this Lascivious bra because I love the sheer panel at the top of the cup. The front hooks are another unusual addition that makes for easy access, but they do have the disadvantage of making the bra less usable as the back stretches out, a particular issue for a strapless bra. Size Range: 32A-36D
The Huit Rumeur Longline is actually from last fall (which makes it harder to get ahold of now!) but my goodness, isn't it gorgeous? I am in love with the Art Deco panelling and the shape which resembles a vintage overwire bra, but with the modern rounded shape. Size Range: 32A-36D.
I chose this Parah bandeau bra because of the amazing cage pattern. This is such a stylish detail and makes the bra look modern yet luxurious. Size Range:  34B-36C
I tried not to include too many beige bras because I find that they can be dull much too often. This one is far from boring because of the delightful lace sewn in to the middle of the bra and on the band. Size Range: 32A-36C
Okay, I did talk about a version of this bra last week, but I still think the strapless, molded version deserves a mention. The dark bow on the sheer bra is just such a clever and beautiful design feature– it's both very wearable and very cute! Size Range: 32B-38D.
This new Kiss Me Deadly multiway bra is just such a delightful color, I had to include it on this list. The fact that the bra is a longline means that it is just that little bit fancier than a regular strapless bra– plus it has cool decorative stretching. Size Range: 32-38 B-DD
Fraulein Annie makes the most adorable bras– I'm so glad she makes this adorable convertible bra. I love the swiss dot fabric because it's so very sweet (it also comes in cream!) Definitely one I would wear all the time. Size Range: 32A-38D
This Freya strapless bra is such a chic bra for full busts. I like the dapper stripes and the unexpected brown bow, which is a nice change from the usual beige. Size Range: 28D-38G
Gossard makes a lovely strapless bra which is especially noteworthy for having a gorgeous deep suspender belt. This would be a number one choice for a bridal strapless because of the delicate cream color and the number of different corresponding pieces. Size Range: 30D-G, 32-38 A-G
Have you seen any more good strapless bras I should know about? Do you care about what they look like or only that they do their job well?