I'm sure that I spend a disproportionate amount of time on this blog talking of stuff that seems unabashedly feminine– and indeed lingerie so often gets deposited entirely into that realm. For those my queer brethren who consider themselves more "masculine" or genderqueer or androgynous, the idea of lingerie may seem entirely ludicrous. However, I do think that is putting lingerie into a box it does not necessarily need to fall into. I am going to try to explore the brands and pieces of lingerie that can be incorporated into a style that would be defined as more androgynous. (This will not even attempt to be as amazing as Autostraddle's articles on bras or boxers, but be more of a jumping off point for someone who wants to be more adventurous with their gender-neutral underthings). But if the idea of frills gives you chills (I'm a poet), check out these picks from the lingerie universe: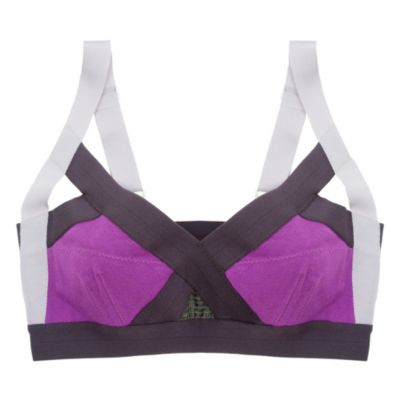 VPL is making some stylish, fashion forward bras for those who like the bold, sporty shapes. It's made for all day wear so it should be comfier than a sports bra, but it definitely has some of that unisex aesthetic. If blue isn't your thing, they make a ton of colors and they also have bikini tops– not cheap, but everyone I've heard from has said they are worth it. Check out VPL's entire collection.
I've raved about how much I love
Topshop's
 lingerie collection
before
— they have interesting designs and are relatively cheap, which is so excellent. I think this soft bra/briefs set looks like a great layering peace under a tank or instead of a cami under a button down. The color is an unusual neutral, which I like.
If you're queer and into lingerie (or if your aren't either of those things) you should know about FYI by Dani Read. Firstly, FYI stands for "Fuck You Industries" which is awesome (and her tagline is "Women are Weapons"). Secondly, Dani herself is queer, as well as being a very cool person. Thirdly, her lingerie is amazing! There is definitely a bondage, gothic vibe to her designs, but with some lighter touches that make for interesting juxtapositions.
Bordelle was one of the brands that first wooed me into loving lingerie. Their bondage-inspired aesthetic is so completely gorgeous. They do have a tendency to skew a bit feminine and be a bit liberal with their bows, but some of their pieces are simply perfect for someone with a more fluid or masculine gender presentation. This suspender, while being not the most practical piece of clothing, is drop-dead sexy and definitely not too femme.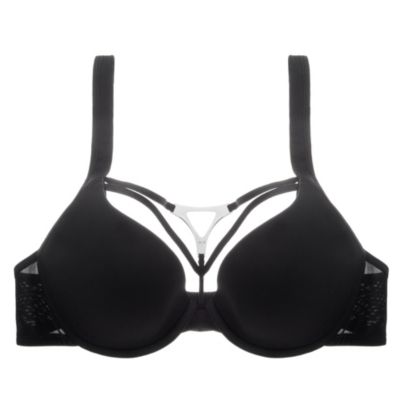 Marlies Dekkers' entire bra collection plays with bold criss-crossing straps and unique metal elements. There is nary a bow or a rosette in sight, but it's strong, modern and unique. This bra (and much of the rest of her collection) will not leave any inconsistency between a dashing exterior and these jaunty undergarments. My consultant on this article (full disclosure: my girlfriend) said that this design looked warrior-like, which I think is a pretty rad endorsement.
Ahh, Calvin Klein. A classic. You can, of course, get the men's boxers (which are very appealing), but if those aren't quite your style, then I think these boyshorts are an excellent choice. Calvin Klein = sexy. Everyone knows that.
So, does this give some guidance to those out there who were bemoaning a lack of sexy yet masculine lingerie choices? Have I missed key pieces? Am I totally off the mark? I'd love to hear your opinions in the comments.
If you like what you see here, follow my "Androgynous Lingerie" Pinterest board where you can see a few of the pieces that didn't quite make the cut (and I'll keep adding to if I run across any other good pieces).